What is a

Calcium Silicate Board

?
Calcium Silicate Board is manufactured from a mixture of portland cement, fine silica, special cellulose fibers and selected fillers to impart durability, toughness, fire and moisture resistance. Calcium Silicate Panels will not degrade with time and within normal applications, the life of the product is limited only by the durability of the supporting structure and materials used in fastening. Calcium Silicate Board will not rot or support fungal growth and is unaffected by sunlight or steam. It is widely used as an alternative to gypsum and asbestos cement board that have some disadvantages. Asbestos cement boards give a bad influence to building occupants health, while the gypsum board will dissolve in the water so that it cannot be used on the building exterior.
Calcium Silicate Sheet is cured by an autoclaving process whereby the ingredients are reacted together under the effects of super-heated steam and high pressure. The synthetic cement silicate binder provides exceptional dimensional stability and an unrivalled resistance to movement due to effects of moisture or heat.
Calcium Silicate Board does not contain any soluble ingredients or free alkali which could be dissolved by moisture or condensation and causing unsightly marks. If exposed to moisture, the board will completely recover on drying out, with no permanent loss of strength.
Formerly, calcium silicate board was used for indoor partition and ceiling. But later, it is widely used for wall facade as it is waterproof, lightweight, has a wide dimension and is easy to install; even it is the solution for a sloping and bending opaque wall surfaces. That is why it has the advantage compared to the brick wall and lightweight concrete. Compared to lightweight concrete, it has the same drywall construction, but at a lower cost.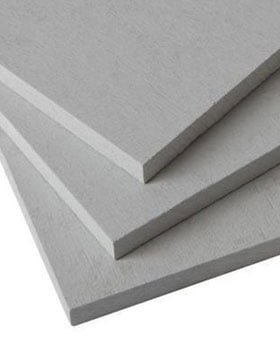 Features of

Calcium Silcate Board
FIRE PERFORMANCE
Calcium Silicate Board is a Class – A non combustible material. It has very good fire rating and performance. When in contact with fire, the plate of Calcium silicate boards will not burn that easily and will not produce any form of toxic smoke.
WEATHER RESISTANT
Calcium Silicate Boards are an excellent weatherproof material. As they do not get damaged in the presence of water, heat and humidity, they are suitable for both exterior & interior applications such as False ceiling, wall paneling & Partitions.
HEAT & SOUND INSULATION
Calcium Silicate Boards have excellent heat, thermal & sound proofing properties. Clubbed with an insulation material, they help in lowering the temperature of the room & preventing sound from traveling between the boards to some extent.
HIGH DURABILITY
Calcium Silicate Board is a very robust board. Its strong core makes it a very durable product. These Boards have high stability & shock resistant properties; Therefore, making it an apt material for external wall cladding, False ceiling and Partitions. They are also Termite Proof and fungus resistance.
HEALTH HAZARD
Calcium Silicate boards are very eco-friendly. No wood is used in the manufacturing of these boards and hence it helps save and preserve the environment. Calcium Silicate boards are free of Asbestos and is a Non-Carcinogenic material.
ECONOMICAL ALTERNATIVE
Calcium Silicate Board is a very economical and flexible product in the construction of False ceiling or Partitions. These Boards can be easily transported and quickly installed with minimum tools and expertise. Making it an economical alternative when compared to other materials.